Welcome To ITS Title Services
Serving Florida's title needs for 40 years.
I.T.S. title services, was founded in 1982 to serve the title needs of the growing hospitality industry. Now we are a leading title services company for Campground, timeshare and interval ownership. Founded by Max Morris, the man who invented and wrote the timeshare statues for the State of Florida, our five real estate attorney have over 100 years of experience in real estate and hospitality management. Our attorney's include a retired FDIC counsel, general counsel for the second largest timeshare developer, as well as two closing attorneys and a HOA/COA attorney. We also can serve your real estate litigation needs as well.
Campground
ITS is the number one campground services company in the state of florida. Serving 47 properties from the panhandle to South Florida. We are your real estate partner when you are ready to set up your campground facility. We don't just perform title, we help and you understand the entire process of setting up a campground resort, from land acquisition to membership and sales. ITS does Camping!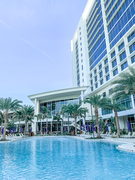 The Best for 40 Years!
Licensed, Insured and bonded, ITS is a A++ membet of the BBB and a good standing member of ALTA and the FUND. ITS is also not just a title company, they are a full service real estate law firm too, with five attorneys specializing in all aspects of real estate.
Timeshare and Interval Ownership
ITS serves over three dozen timeshare clients and at one point represented nearly half the developments in Orlando alone. Founder Max Morris, esq., set up ITS to serve the needs of the growing vacation ownership industry in 1982 before anyone knew what it was. Interval ownership was something that the Swiss perfected to limit the amount of ski lodges that were crowding the ever growing ski areas of the Swiss Alps. This was done to safe the beauty of the area, like fondue, Max brought this idea to Florida and the rest is history.
Commercial Closings
ITS is partnered with over 3k acres of projects alone in 2021. We help facilitate platting, operation set up, permitting, engineering, help facilitate lending and of course title. If you want a title company, we do that too, ITS will perform complete back office title services for title escrow closing operations so together you can keep control of the closing process. Want more information, email Gerald or call him directly at 4072341007.